The Benefits of Using Inflatable Bounce House
Let not video games, Electronic gadgets hijack your child's play time, they need some physical activity too, right? What better way than bounce houses to attract their attention and let them have loads of fun jumping, bouncing, and sliding these gorgeous looking monstrous structures? Children love these inflatable bounce houses for they feel powerful climbing them, bouncing on them and sliding.
Well, the theme based bounce house games have become very popular even with adults. So, if you are hosting a party, you can thoroughly entertain your guests, no matter the age, using these beautiful looking inflatable structures – bounce houses, water slides, princess palaces, etc.
The growing popularity of inflated bounce house in Pearland and other areas has led to designing creative bounce houses that offer great activity for your child's brain too, in addition to offering good health revitalizing every organ of your children and those who play on these bouncy houses. Playing on these inflatable structures test not only the physical abilities of your child, but also the mental capacity, their ability to think, balance themselves, and react to get a desired outcome.
With their compact size, these inflatable structures fit anywhere be it indoors or outdoors in your backyard; as long as you can offer them electrical supply for these structures, you can erect them anywhere comfortably. While with other games there are restrictions on the number of participants, there is no such restrictions with bounce houses, as they can accommodate many guests.  Well, inflatable bounce houses offer many benefits for your guests, whether toddler, kids, or adults that attend your party.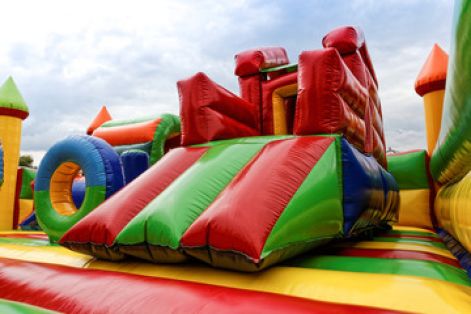 Plenty of Options to choose: Inflatable bounce houses come in different shapes, styles, designs, and forms, offering you variety of games to choose. You can select a bounce house that suits the themes of the party you planning to host. Chose a doll house, princess castle, animated characters, bounce house designs influenced by sports or movies, and more. Select the inflatable bounce house based on the theme and the guests to entertain them thoroughly.
Enjoy outdoors: Sitting indoors watching TV, playing video games may make your kids introverts, and they may not develop social skills bounce houses are the best ways to invite many guests and have all the kids interact play in the outdoors. Playing outside helps your kids get natural Vitamin D from the sunshine, and if the weather is humid, you can activate the water slides that come attached with some bounce houses and cool off.  The water slides offer great fun to your kids and guests, as you can erect variety of styles water fountains using these water slides.
Great Physical activity: Well, the modern day kids addicted to video games, cartoons, etc., spend great amount of time indoors doing no physical activity that makes them lazy beings. Inflatable bounce houses are great ways to divert their attention from indoor lazing and getting into some rigorous physical activity jumping, sliding, running, climbing these inflatable structures. Playing bounce house games is a great physical activity, is almost like cardio workout that helps your kids burn the extra calories. Such hectic physical activity will help your kids tire and go to bed easily. Early to bed, early to rise makes them healthy mentally and physically.
Sharpens brains: Inflatable bounce houses are not just about climbing up, wandering in them, and jumping aimlessly. These structures come with theme-based games, such as athletic games classic games, talent shows, make-believe, etc., that are interesting and requiring co-ordination between the players, having a game plan and more. It makes your children tough, physically and mentally, makes them generate ideas by throwing at them real life like scenarios preparing them for challenges in life and more.
Supervision: You can always keep an eye on your kids installing these inflatable structures in your backyard or comfortably indoors, helps you ensure that kids are safe.
Well no doubt, inflatable bounce houses are a great way to host a memorable, safe, and enjoyable party of any kind, or size right at your place indoors or in your backyard.  You can conveniently rent a bounce house from any party rentals, as they stock a wide variety of such inflatable structures for any party that you want to host. Party rentals offer free installation, so you do not have to worry about huge investment buying them or having to erect or install them on your own. In addition, party rentals also have insurance cover so you do not worry much about any mishap during the party.