Corporate Event Planning Companies – The Ultimate Choice for Arranging Business Event
Are you thinking of arranging a corporate event in grand style? There is nothing to fret over! Opt for one of the best corporate event planning companies and give your employees the chance to celebrate in a great way. Corporate event planners can help you to make the right planning for your corporate party.  They often suggest some themed events for the parties that help employees to get rid of the monotony of the workplace and give them something exciting to look ahead. Besides, themed events provide an opportunity for employees to express themselves in a creative way and discover them in a new light with lots of fun, without the pressure of routine job. These parties create new friendships and strengthen communication among employees. Apart from the themes, corporate event planners make arrangement for all wedding decorations, including the flower, light, fabric, furniture, art & graphic and fabrication. In addition, they plan for a menu, entertainment and setting.
Let's check out a few tactics adopted by the event planning companies to arrange a corporate event:
.  Choosing the Theme
Selecting a theme and creating a vibe of the party are extremely important for a corporate event. The music, decorations and the party favor contribute a lot to the festivity. You may ask the event planners to arrange your party like the 1920s theme like the Jazz Age or Roaring Twenties.  Consequently, the event planning companies would choose appropriate soundtracks for the Jazz Age party. The music of Louis Armstrong, Charlie Parker, George Gershwin and Duke Ellington could also match your 1920 event theme. Now, if you like to make arrangements for a Hawaiian luau-themed party on your corporate venue, you can spread sand on the floor and play traditional Hawaiian folk songs. Choosing a Hawaiian band with slack key and steel guitars would provide a lovely island feel to the scene.
.  Creating Unique Environment
It's also important to create a unique environment. Be it for the annual company celebration, breakout meeting, opening reception, trade shows, general sessions or award ceremonies  – your celebration would not make the right impact to your employees or guests without an apt environment. The corporate event planners have a wide array of custom-made bars and furniture for dinner, cocktail and meetings. They enliven the rooms with various lighting schemes and decorate the tables with fresh floral centrepieces to make an impactful and impressive celebration. Often, they pick up exquisite floral designs, place breathtaking bouquets and arrange custom upholstered botanic walls with palatial centrepieces to transform an ordinary room into a transcending garden like an oasis. Moreover, remarkable lighting schemes emphasize all the details for creating a dazzling event. They enhance the mood of your occasion with the deft use of artistic lighting. If you want, you can also drop your name through logos and corporate branding to lounge furniture, décor and lighting.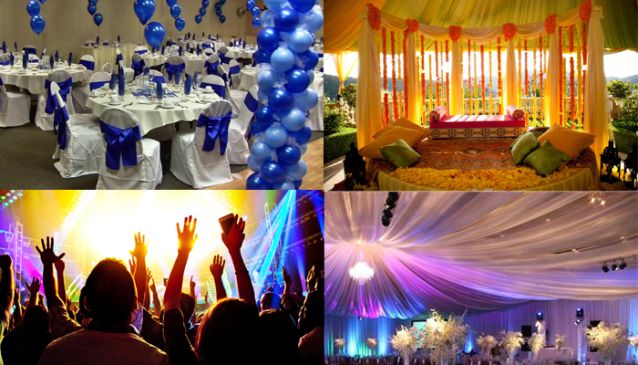 .  Selecting the Menu
Opting for the right food and drinks complements your corporate theme. If it is a 1920 party, the corporate event planner could arrange for American dishes like meat balls, spaghetti, hot dogs, hamburgers and meatloaf. Hershey's candy bars and Campbell's soups can also be great additions in this regard. Moreover, old fashioned beverages like Champagne cocktails, Sidecars and Pimm's cups would fit into the scene. Now, if you are planning a typical Hawaiian feast, the corporate event planner may include Huli Huli chicken, roasted pork, sweet potatoes, Lomi Lomi salmon and lots of other fruits. Furthermore, tropical drinks like Strawberry Daiquiris, Blue Hawaiians, Pina Coladas and Mai Tais can be included as beverages. Besides, if it's a food themed corporate party, Chinese Chop Suey, London Tea Party, Mexican Fiesta and Italian Bellissimo can make the perfect additions.
.  Arranging Entertainment Activities
Entertainment activities are also vital in a corporate event and the corporate event planning company makes arrangement for entertaining your guests in the right way. The event planners often include contests and games to amuse your visitors. In case, you have chosen a 1920 style event, card games and Charleston dance contests can be arranged. Jazz singers can be invited for guest entertainment. A 1920 murder mystery game can also be arranged with other activities for engaging your guests throughout the evening. If you opt for a Hawaiian show, your guests can be thrilled with hula hoop contests, coconut bowling and musical beach towels. Hula dancers and Polynesian drummers can be invited to delight your guests. Moreover, Las Vegas casino style games can be arranged as no-money gambling event.
Appoint one of the best corporate event planning companies and arrange your business event in a remarkable fashion.