How to Rent a Waterslide for a Pool Party?
Who doesn't love theme parties? Theme parties are a lot fun than regular parties where you don't have a theme or agenda though it's a party. If you are hosting a gathering for your friends and acquaintances, hoping for them to get along with each other, just food and drinks are not enough. Pool parties are great for theme party ideas, especially if it's a summer and you want to cool it off with friends and family.
You can always, increase the fun and entertainment in pool parties with an inflatable waterslide. Who doesn't like to go down slides and land in a pool of water? Waterslides are great for people to have fun with another and have a good time together. You can easily rent waterslides from party rentals in Pearland for your party and impress your guests. In this article, we will give you tips on how to rent a waterslide in Pearland and choose party rentals. Read on.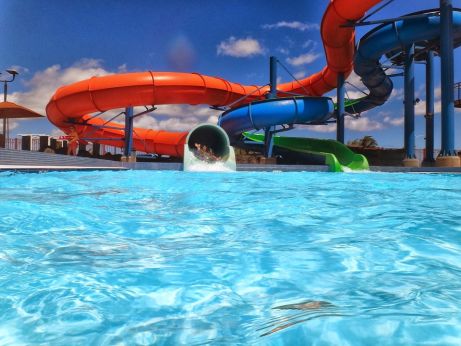 1. Size of the waterslide
Before you contact any party rentals in Pearland for a waterslide, you need to know the space you can afford in your background/pool for a waterslide. Based on the space available, you can decide the size of the inflatable you require. A bigger waterslide can hog the party space and a smaller one would be too small to play for adults. When you contact a party rental in Pearland, ensure to look for the waterslide that suits your requirement and check the availability.
2. Theme and Color for kids
If you are having a pool party for kids, nothing can beat the excitement of a waterslide for kids. They love jumping and sliding down the slide and adults can do their catching up while the kids play. Kids are very specific about the theme of waterslides and prefer superheroes, animals etc. as their favorite themes. They are attracted to vibrant looking slides and have a really good time if they like the theme and color of the waterslide. When you contact a party rental to rent a waterslide in Pearland, enquire about the availability of themes and colors.
3. Setup
This is one of the most important aspects of renting a waterslide in Pearland. You cannot install a waterslide when others having a good time in the party. It would be convenient if the rental service offers home delivery, installation and pick up the inflatable once the party is over. Good party rentals in Pearland offer all of these services and reduce the time and effort you have to invest in a party. Few rental services also offer party essentials for rent along with the inflatable. You can enquire about this too, if you require a few party essentials like chairs, juice makers, generators etc.
4. Security
There are instances when waterslides can result in injuries and cramps. If the air pump on which the inflatable works doesn't function properly, the inflatable will be uneven and doesn't provide the bounce you need to slide. You might fall or land in bad postures resulting in unwanted injuries. But, if proper security measures are taken and a staff has been appointed to take care of the maintenance of the slide after installation. When you are renting a waterslide in Pearland, make sure to get an overview of the security measures the rental provider is offering.
5. Hygiene
No one likes a dirty waterslide, which has remnants of food and dirt from the previous party. The slides are rented on a regular basis and it is a standard procedure to clean and sterilize the inflatable before renting it out again. Water borne diseases and allergies might affect you if the slide is not properly sterilized. When you contact party rentals in Pearland, observe the importance they give towards hygiene and safety.